Eugenie L's favourite movies & music
Music
I present Archimede, Tryo and The Bloody Beetroots.
Tryo
Tryo is a group of French songs singers, influenced by the reggae. It was created in 1995.
It is committed to defending the environment and joined Greenpeace.
Members:
Guizmo
• Name: Cyril Célestin
• Roles: singer, coposer, musician
• Instrument: Guitar.
Mali
• Name: Christophe Petit
• Roles: Singer, composer, musician
• Instruments: Guitar, accordion, piano, melodica.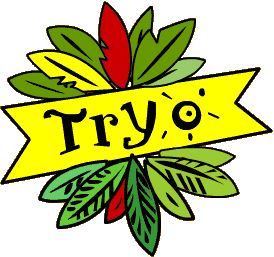 Daniel
• Name: Daniel Bravo
• Role: Musician
• Instruments : drums, djembé, darbouka, congas, guiro, cajón, bendir, bongos, violin.
Manu
• Name: Manu Eveno
• Roles: Singer, musician
• Instruments: guitar, bass, oud, flute, clarinet, tablas.
Bibou
• Name: Sébastien Pujol
• Roles: Manager, sound engineer.
Some well-known songs: "Désolé pour hier soir", "L'hymne de nos campagnes", "Toi & Moi" & "La main Verte".
The Bloody Beetroots
The Bloody Beetroots is a group of Italian electronic music. It was created in 2007. In French, the name gives is "Les Betteraves Sanglantes" or "Les Betteraves Rouges"
The duo likes to show himself in public with a mask of Spider-man. They take also known songs, remixing them. (Like "Till the World End" by Britney Spears)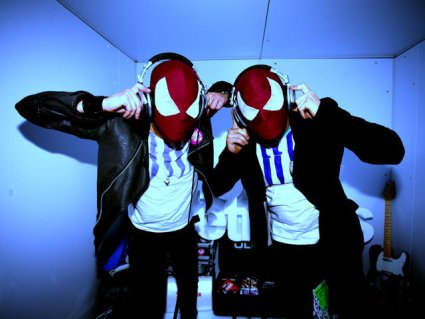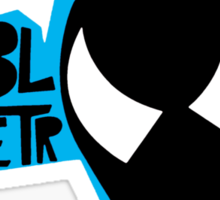 Members:
Bob Cornelius Rifo
• Roles: Leader, producer, vocals, DJ, musician
• Instruments: Guitar, keyboards, bass.
Tommy Tea
• Role: Sampler.
Some well-known songs:
"Warp 1.9", "Church Of Noise"
& "Dimmakmmunication".
Archimede
Archimede is a French rock band. It was created in 2004, by brothers Boisnard.
The group is originally from Laval. He It made two album "Achimede" and "Trafalgar".
Members:
Nicolas Boisnard
• Roles: Leader, singer, musician
• Instrument: Harmonica.
Frédéric Boisnard
• Roles: Singer, musician
• Instrument: Guitar
Guillaume Payen
• Role: Musician
• Instrument: Guitar
Thomas Cordé
• Role: Musician
• Instrument: Bass.
Tess
• Role: Musician
• Instrument: Drum.
Some well-known songs: "Le bonheur", "L'été Revient" & "Vilaine Canaille".
Movies
I will now present "Catch Me If You Can" (Arrête-moi si tu peux.)
This film is a comedy drama produced by Steven Spielberg in 2002.
This is the story of a 16 year old. After the divorce of parents, he decides to flee his home.
His name is Frank Abagnale Jr. He knows that how to pass as a past to a pilot of Pan Am (Pan American World Airways) even though he is between 16 and 18. He makes payments of checks, free travel by plane and could stay in a hotel in the cost of on the airline's tab.
All girls are at her his feet and when he misseds being captured by the FBI, he stopped traveling and posinges as a doctor in a hospital.
He is finally arrested by the FBI in France.
He bilked steals $ 2,5 million.
It is inspired by real events.
The main actor is Leonardo DiCaprio.
The film is a sort of biography about the life of Frank Abagnale Jr., but like many cinematographic adaptation, it is not perfect.
I saw the first time around 10/11 years.
This movie is great because there is no special effects.
Additionally DiCaprio and Tom Hanks (the FBI agent) are very good actors, their roles are wonderful.
Sweeney Todd : The Demon Barber of Fleet Street. (Sweeney Todd: Le Diabolique Barbier de Fleet Street.)
The movie is a horror musical film produced by Tim Burton in 2007.
It is based on another musical created in 1979 but also the legend of Sweeney Todd, Barber London quui killed his clients with his razor while his accomplice, used bodies, to garnish his meat pies .
Synopsis:
In the nineteenth century, a barber who was unjustly condemned and exiled by a corrupt judge returns to London under a false name.
He reopens his shop and satisfies his thirst for revenge by cutting the throats of his customers.
Mrs. Lovett, helps him get rid of bodies by using them as farce.
It has won many awards but there is a partial failure in United States.
Johnny Depp and Helena Bonham Carter embody their roles magnificently, singing the English version of every song from the movie as all actors for that matter.
The film is gorgeous and personnaly I do not expect to this end.
Sherlock Holmes: A Game of Shadows (Sherlock Holmes: Jeu d'ombres)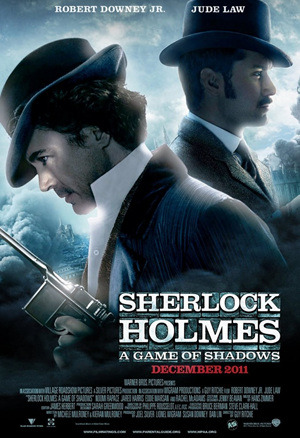 The film is an thriller Anglo American thriller, produced by Guy Ritchie in 2011. The characters are inspired by those created by Sir Arthur Conan Doyle.
It follows on from Sherlock Holmes released in 2009, already with Robert Downey Jr. and Jude Law as main actors.
Synopsis:
The film is set in 1891, it turns around Holmes (Robert Downey Jr.) always in pursuit of Professor Moriarty who could be the largest criminal the world. Watson (Jude Law), marries, and tries to keep alive Sherlock alive. "
I went to see the film last Tuesday (when we did not progress) with a girlfriend and nailed the end we were on the edge of our seats.
The film is interesting, with the action and the story is intriguing. The actors play their roles just as well.
page revision: 21, last edited: 05 Feb 2012 19:25